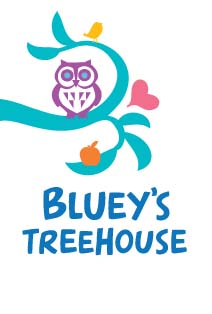 Guide for Parents
Blueys Treehouse caters for children from two - six years of age.We open from 7.30am to 6.00pm, Monday to Friday, 51 weeks of the year.

Bluey's Treehouse is an accredited centre under the Federal Government's Childcare Benefit Scheme (CCB).

Programming at Bluey's Treehouse is based upon our Bluey's Treehouse philosophy and we encourage parents participation.

Our philosophy: "When children feel safe, happy and healthy they interact with their surroundings and learn through curiosity and involvement. Every day Bluey's Treehouse endeavours to create a place of great joy, comfort and discovery for all our children".

Healthy, nutritious meals provided.

A complete detailed guide is available from Bluey's Treehouse. Please contact our Centre Director, Kate Burling, on 9918 7001 for more information.