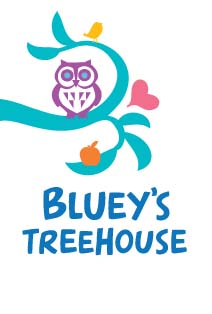 FAQ
What are your hours of operation?
We are open from 7.30-6.00pm daily. We are open 51 weeks per year.


How much do you charge per day?
Our fees are $150 per day for all ages.
What is included in the fee?
The fee includes access to a program prepared by our qualified staff, three meals a day, milk, nappies if required, sunscreen and linen for rest time. The centre also often arranges events and incursions for the children and families.


How do I join the waitlist?
Simply fill in the enquiry form online and the Centre Director will email you some information and invite you down for a visit to Blueys Treehouse.


Is there a fee to go on your wait list?
There is no cost to go on our wait list.


Can I visit Blueys for a tour?
Yes, you can call the centre to make an appointment with the Director. Please do not visit the Centre without a prior appointment as there is lots of important learning taking place and we don't like to rush our appointments with potential new families.


Is there a minimum number of days required for enrolment?
Although there is no minimum number of days you can enrol your child, we recommend that families enrol for a minimum of two days. We believe that children who only attend one day don't gain the full benefits of our program and can take longer to adjust to the learning centre environment. Two days or more will allow the child to develop strong attachments to peers and staff.


Is there an initial payment required to confirm an enrolment?
Once families have been offered a position at the Centre, we ask for an initial payment of two weeks bond and two weeks fees in advance. If the enrolment is cancelled before the commencement date the full initial payment will be forfeited.


How do you manage illness in your centre?
We ask that all families keep their children at home when they are ill and they notify the centre of any illnesses. This way we can keep all of our families up to date with any illnesses that may be circulating.  If your child falls ill at Blueys, we will call you immediately and keep your child in a comfortable state until they can be collected.


What is your policy on parent participation?
We love family participation in our program. Families can be involved as much or as little as they like. Have a chat to your teacher today about how you can participate in our program.


How do you like to communicate with families?
We believe in open communication with families. We like to have a chat with you in the morning or afternoon, or if you feel like there is a matter that should be discussed privately, we are happy to arrange an appointment with you.  

We also like to provide families with an overview of your child's development through the use of portfolios. These generally include photographs with observations, samples of work and skill sets and summaries of learning stories that have taken place throughout the year.

We also have a secure parents zone on our website.


What is your relationship with St Mark's Church?
Bluey's Treehouse is situated on the property of St Mark's parish. Although we are independently run and non-denominational, St Mark's would like to visit with the children on occasion to share in their celebrations.  They also use the premises on the weekend for their Sunday school.


What type of meals do you provide?
We provide morning tea, lunch, afternoon tea and a late snack. The children are given fresh fruit and water throughout the day. Morning tea and afternoon tea usually consist of fruit with muffins or toast etc. Lunch is a hot meal consisting of a carbohydrate, protein and vegetables. We are a nut free centre and we cater to individual requirements including allergies and cultural or religious preferences.


Do you have a school readiness program?
We believe that we are preparing children not only for school but for life. In our program, we deliver the foundation for learning. We try to promote curiosity and a love of learning. Investigation, problem solving and team work are at the core of our program. Literacy, mathematics, concept knowledge and science concepts are promoted through play, discussions and interactions with children, books, peer learning and input from the community. Encouraging the development of social skills and emotional maturity are considered just as important in preparing the children for school.


How do we pick up additional days?
If you are looking for a permanent extra day of care, please contact your director well in advance, so we can start looking for vacancies.


Can we pick up casual days or hours?
Yes. Just contact the Director if you would like an additional day of care. If we have availability, you can book in for a casual care day. Alternatively, we have the facility to book in for casual hours of care.


What happens if we want to leave Blueys Treehouse?
Families must give four weeks written notice to the Centre Director. The bond will be allocated to your fees and the Centre administrator will be in touch to finalise your account.