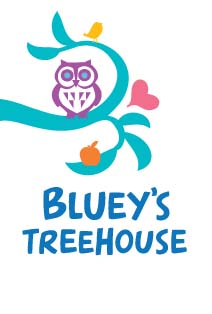 A Day at   
Blueys Treehouse
Arrival
Lily arrives at Bluey's Treehouse and happily hangs up her backpack and puts her hat on to play.  She sees her teacher, Jenny, and runs over to show her the flower she picked on her walk to kindy.  Jenny asks her what it is and where she found it.  
Lily says she found it at the edge of the bush in her street but is not sure of its name. Jenny invites some of Lily's friends over to see if anyone can help. Josh says, "It's a flannel flower, my Mum's favourite". Then all the kids start naming their Mum's favourite flowers and we decide that is what we should paint today.


Morning Tea
Lily and her friends wash their hands and sit on their favourite picnic table on Bluey's verandah. Morning tea today is fruit toast and apples, washed down with a glass of milk or water.


Group Time
Lily reaches for a book with flowers on the cover to see if she can find the one she found.  She settles on a pillow with her book.  Jenny invites Lily to show everyone the flower during circle time.  Again they have a discussion before Jenny commences her group time.
Following Luca's interest in music she reads a story book about an orchestra and then engages the children in a movement game.
Afterwards, the children are invited to choose an activity from investigating plants on the light box to dress up or blocks.


Outdoor Play
After an hour inside, Jenny decides that the children are ready for some physical activity. They head outside to play in Bluey's cubby house, walk and jump along the wooden planks and blocks and dig in the sand pit. Some children prefer a quiet space to read a book or do a puzzle; Lily wants to help Jenny pick some herbs from the herb garden and then play "shop" in the cubby house with her friends.


Lunch Time
Pasta and vegies today. Lily's favourite. After lunch the children have some quiet time. Some of the children want to lie on a bed. Lily would rather do some quiet drawing. She draws a picture of a violin, inspired by the orchestra book, for her dad.


Afternoon
In the afternoon, Lily plays with her friends in the other classroom. They do some singing and dancing and they even go for another run outside before sitting down to some fruit for afternoon tea. Soon it's time to go home. Lily packs her bag, collects her craft and says good bye to Jenny and friends.  Lily's mum reads the day book and looks at the lovely photos of Lily reading, picking herbs and playing with friends. It has been a busy day.